I did not pick up this book at a bookstore. A friend had finished reading it and passed it on to me saying, "I think you will enjoy this book.", and she was so right. I did like it very much.
This book is essentially a record of Albom's conversations with Morrie, his old college professor in the last few months of Morrie's life, as he was dying of a terrible disease. Sounds depressing? I thought so too before I started reading this. It is anything but. It is such a life-affirming read.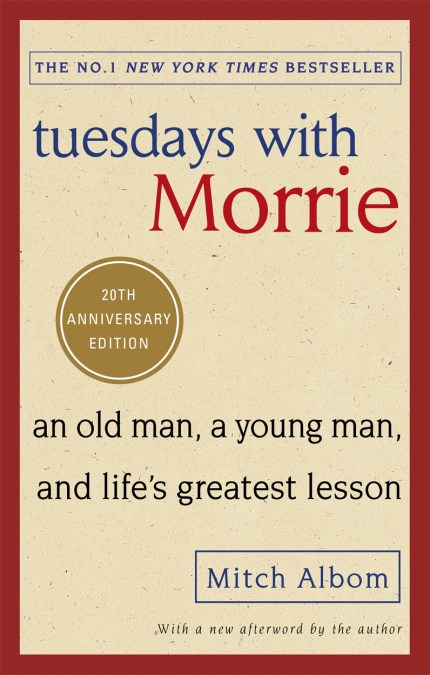 Morrie was Albom's favourite professor but life took over after college and he never kept in touch, only by chance did he see a news story on Nightline and found out that his old beloved professor was dying. He went to see Morrie. He thought it would be the last chance to simply say goodbye but Albom got so much more than that.
Interspersed throughout the conversations are flashbacks to Albom's college years and the times spent with Morrie when he was healthy and a dancer. These backstory moments give context to the conversations with a dying man.
They talked about lots of things; marriage, fear of aging, the world, regrets, money, family, culture, love, emotions, feeling sorry for yourself, death, the perfect day, forgiveness, and finally goodbye. In every conversation, Morrie passes on his little pearls of wisdom, not in a patronising "I-know-more-than-you" way or in a "I-am-dying-listen-to-me" way but in a loving "I-want-the-best-for-you" kinda way.
"Once you learn how to die, you learn how to live."
"Love each other or perish."
"Learn to detach."
"I am every age, up to my own… …How can I be envious of where you are – when I've been there myself?"
"But giving to other people is what makes me feel alive… …Do the kinds of things that come from the heart."
"I believe in being fully present."
"…when we are infants, we need others to survive… …when you get like me, you need others to survive… …But here's the secret: in between, we need others as well."
"Forgive yourself before you die. Then forgive others."
"Death ends a life, not a relationship."
These are some of the things which struck me as I read the book. Throughout the book, you see Albom's perspective on life, his career and relationships change. It's a wonderful thing to have a great teacher and that was what Morrie was, to the very end.
I hope you would be interested to learn from Morrie and find out more about the above statements which I pulled out of the book.
Happy Reading!
syc